When the dead talk...they talk to him...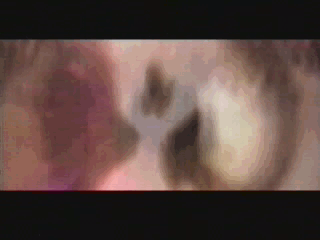 John set out on his course of life by talking with a famous psychic medium that was doing readings in his home for his Mother and Grandmother one day. Lydia Clar helped him to become aware of his psychic abilities which he has worked into an almost uncanny gift of helping people he reads to come to terms with the 'passing over' of a loved one, whether they're a friend, a pet or a family member.
Due to the over-whelming success of "Crossing Over with John Edward" on the scifi channel, people are willing to wait over a year for a personal one-on-one reading with John. He tours the US regularly bringing his brand of comfort to people that attend his seminars.
Having been to two of his seminars myself, in Austin Tx. and in Oklahoma City Ok., the man has a phenomenal presence that brings a wave of comforting knowledge that our 'passed over' loved ones are still with us in our hearts and in our everyday lives.
Passing on his words of wisdom, as John says at the end of each show or seminar...Communicate, Appreciate and Validate those in your life now, so a psychic medium, like him...doesn't have to do it for you later.
My heartfelt THANKS to John Edward for doing what he does.


PINK ROSES represent them sending their Love...
If you click on the pink rose, you'll be taken to another fantastic site of people, brought together to share our sorrows and uplifting thoughts with one another, all of us brought together by loving understanding and our appreciation of John Edward. (clicking will open in a new browser window) Come check the site out, and join us in our chats after "Crossing Over with John Edward" on Sunday and Tuesday evenings.

Taken from the HOLY BIBLE-New International Version

JOHN 16:22 NOW IS YOUR TIME OF GRIEF, BUT I WILL SEE YOU AGAIN AND YOU WILL REJOICE, AND NO ONE WILL TAKE AWAY YOUR JOY.

PSALM 23:1 THE LORD IS MY SHEPHERD, I SHALL LACK NOTHING.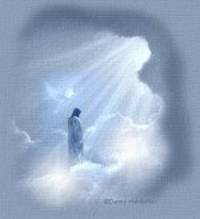 1 Thessalonians 4:16-17 For the Lord Himself will come down from Heaven, with a loud command, with the voice of the archangel and with the trumpet call of God, and the dead in Christ will rise first. After that, we who are still alive and are left will be caught up together with them in the clouds to meet the Lord in the air. And so we will be with the Lord forever.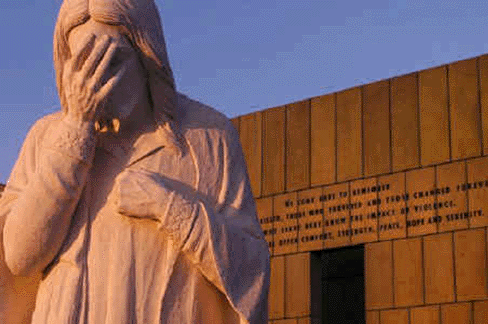 The whole world knows about the Oklahoma City bombing on April 19,1995...In their efforts to move on with life-which is natural-we now have the Memorial to all 168 who lost their lives in the blast or it's aftermath.
What strikes me most is the statue of Jesus, face in hand and weeping for all the victims, but for me, I think he's actually weeping for us all...what some have become, the things humans do, the innocent bystanders that have tragedy pushed onto them, by no fault of their own. God has his plan, and at times I know...you can't help but wonder WHY??
The closest I think you can get to the answer is that HE knows best-he knows what's down the road and when it's time to stop the journey or travel on...you just have to hope that SOMEDAY, YOU'LL KNOW TOO.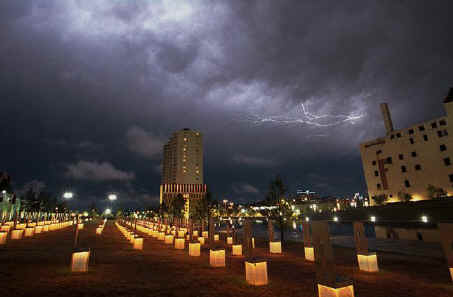 Oklahoma City, Ok. Bombing Memorial-weathering another storm.


By clicking on the snowglobe below, you'll get to see the other wonderful graphics from "A Patch of Heaven" Memorial Graphics. Thanks goes out to their creative people for making it possible for us to use these endearing creations of theirs. (note: clicking will open a new browser window, so you don't lose your place on this one ;-) Thanks..)
[JESUS SAID]
"Surely I will be with you always, to the very end of the age." Matthew 28:20

In Memory of a very special long-time faithful friend-Golden Nugget (Nugget) my 19 year old cocker spaniel that went to protect the heavens in 1998.
Buddy joined Nugget, Spring 2003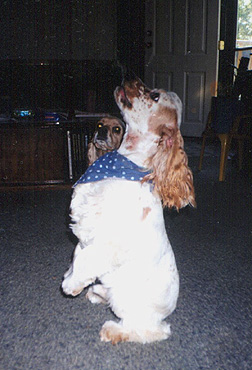 A sweeter soul has never been put in a dog...truly man's best friend!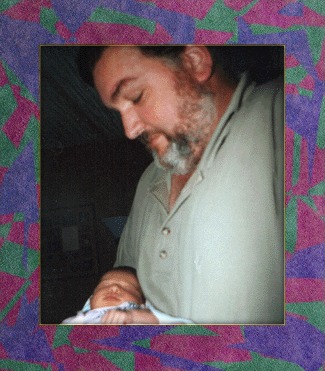 For Chuck-
Aug.1,1958-Aug.15,1998

It took a big man to hold all the tenderness and love he gave his family and friends.

Support freedom
God Bless the USA...protect and watch over ALL the innocent and deserving people, no matter what nationality or religion. Guard us as we sleep against the enemies that would destroy our homes and families. Help us accept what you have deemed as Your Will...and stay strong.
In Jesus Name...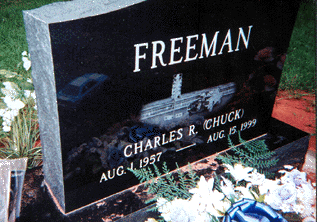 This is the headstone I had made for Chuck's gravesite...I felt it HAD to have something to do with racing, he LOVED any kind, but especially drag racing ...so I took a picture of the car he'd built himself around 1990, that actually ran 10's and 11's on the drag strip and had it put into the headstone. I think they did a good job on it, you can see the tread of the tires if you look at it in person.